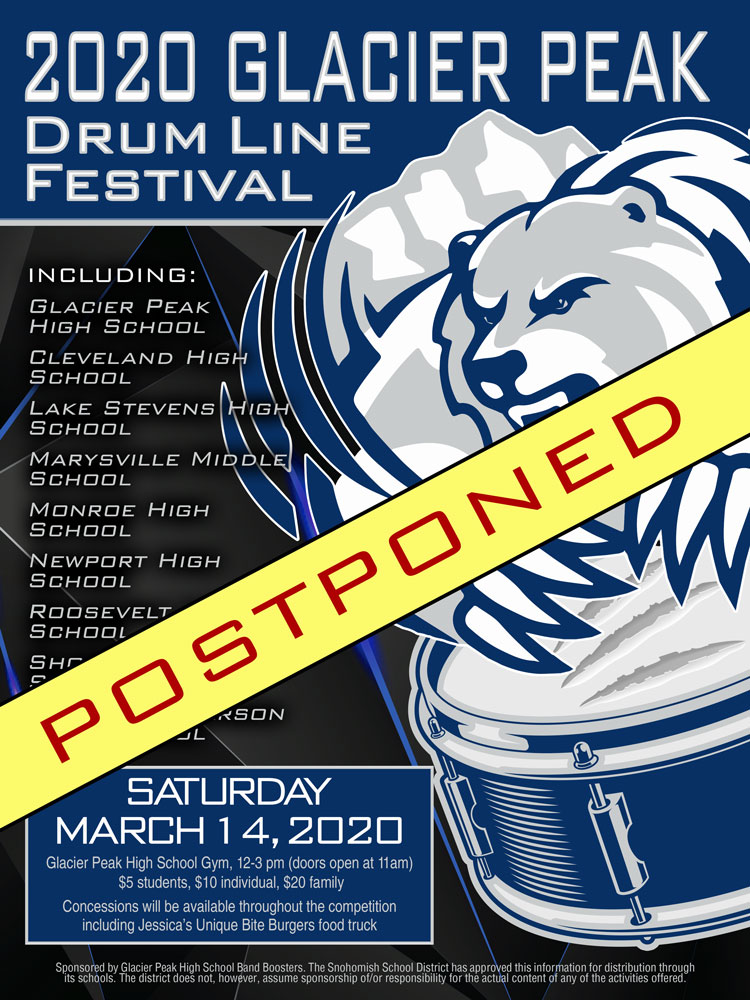 Last minute changes? Check the calendar on this website for the most up-to-date info on games, rehearsals, concerts and events. 
——–
*Please note: Drumline Festival, Newport Jazz Festival and MPMEA events have been postponed or canceled at this time.
——–
Hawaii Big Trip Meeting
Wed, March 18th
Online 6:30pm 
We will send out a separate email and link to all Hawaii trip families. 
——–
Newport Jazz Festival
(postponed until further notice)
Saturday, March 21, 2020
Jazz I & Jazz II 
Newport High School, Factoria, WA 
——–
Senior Scholarship
Wed, April 1st, 2:30 p.m
Sponsored by Band Boosters. Scholarship email sent to seniors with information.
——–
OTHER UPCOMING EVENTS

Silverwood Theme Park
May 8-10, 2020
 Optional band trip. Deposit Due April 3
——–
Drumline Camp
August 3-7, 2020
——–
Grizzly Band Camp
August 10-14, 2020
——–
Hawaii Trip Rehearsals
Late August, 2020 – TBD
Optional band trip. Weekly rehearsals for those planning on attending. 
December 2020
Hawaii!
We are going to take our band program to Hawaii December of 2020!  They will be participating in a parade and other events commemorating veterans & their families for the Pearl Harbor 2020 events.  We are very excited about this opportunity, but we need your help!  We are in the process of planning and we need a Hawaii Big Trip Committee to help with planning, fundraising and all of the logistics that will go into a big trip like this.  If you are interested in being on the committee, please email us:  gphsbandboosters@gmail.com
"TRIP INFO" PDF contains cost information, fund raising opportunities, and itinerary.
"TRIP FAQ" PDF answers many trip questions and will be updated as new information comes out!
Facebook feed
May not display on all devices/browsers (Firefox seems to have the most problems).  If you have trouble seeing this page, feel free to visit our Facebook page directly by clicking here.
Glacier Peak High School Band Booster Club
The GPHS Band Booster Club supports all aspects of the Band Program, including this website! 
Become connected to the Band Booster Community!
 Like our Band Booster Facebook page for the latest news & events!
Donate to our program!
(Click on button below for secure processing. It's easy! No signup/account needed. You can use any major credit card or a PayPal account. )